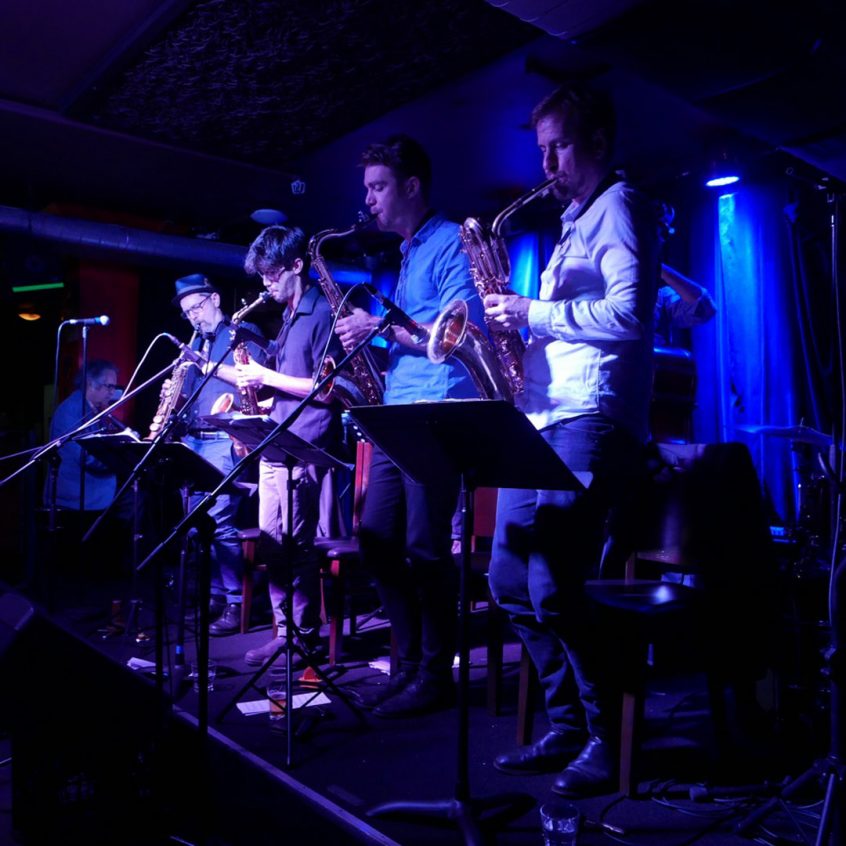 25 March Monday – Greasy Chicken Orchestra
$12.00 – $33.00
Monday 25th March, 2019, 7.30pm
Doors open from 6:30pm
Description
The Greasy Chicken Orchestra salutes the music of Louis Armstrong and Lil Hardin Armstrong
The Greasy Chicken Orchestra, Sydney's 8-piece 20s/30s jazz repertory orchestra, will play a gig on Monday Mar 25, from 7.30-10PM at Foundry616 in Ultimo that celebrates the music of New Orleans legend Louis Armstrong, and his lesser known but equally talented second wife pianist Lil Hardin Armstrong,
Lil Hardin, who played piano on the recordings known as the 'Hot Fives' composed countless New Orleans tunes, including 'Struttin' with Some Barbeque', 'Jazz Lips', 'Yes, I'm In The Barrel', and 'Just For A Thrill', which was later made famous by Ray Charles.
Louis Armstrong is of course a singular figure of New Orleans jazz, know as a brilliant soloist and thrilling showman. The evening will present compositions by both of these artists, as well as New Orleans jazz tunes of which they made famous recordings such as Muskrat Ramble and St. James Infirmary. [They will not be playing 'Cabaret', 'Mack The Knife' or 'What A Wonderful World'.]
The Greasy Chicken Orchestra is not a 'trad' or 'Dixieland' band, but rather a modern outfit that celebrates the compositions and arrangements of the jazz of the 1920s and 1930s with harmonised or unison performances of classic solos, tight arrangements and exciting soloists, celebrating an era when jazz was a music of unabashed fun and danceability, with great tunes and rhythm.
Join us for an unforgettable night of music as we welcome this unique band back to the Foundry616 stage as for the first time in over a year we have the original line-up back together!
Phillip Johnston – soprano saxophone
Peter Farrar – alto saxophone
Tim Clarkson – tenor saxophone
James Loughgnan – baritone saxophone
Peter Dasent – piano
Tim Rollinson – guitar, banjo
James Greening – sousaphone
Nic Cecire – drums
---
Tickets:
General – $17.00 incl booking fee
Concession – $12.00 incl booking fee
Drinks & Show – $33.00 incl booking fee
Additional information
| | |
| --- | --- |
| Ticket Type | General Admission, Concession, Dinner & Show – 6.30pm, Dinner & Show – 7pm, Dinner & Show – 8pm, Premium Dinner & Show, Drinks & Show |
Event Details
Date: 25 March 2019
Start time: 19:30
End time: 23:00
Venue: Foundry 616
Phone: 02 9211 9442
Email: info@foundry616.com.au