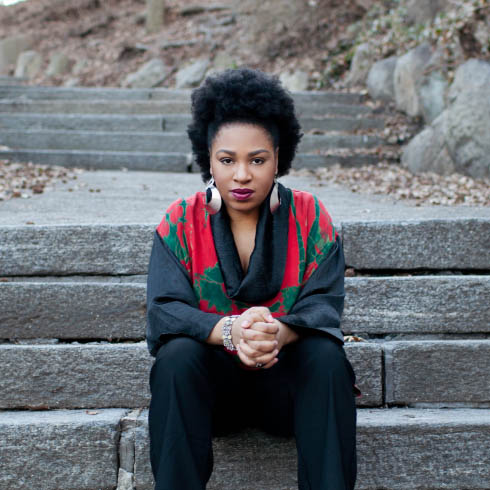 17 Nov Saturday – SIWJF – Charenee Wade (USA/Australia)
Saturday 17th November, 8.30pm
Our headline artist is the exciting vocalist Charenee Wade who, accompanied by her long time collaborator, pianist Oscar Perez, will be making her debut Australian appearance to perform her celebrated tribute to the late singer/poet Gil Scott Heron.
One of the most distinctive and bold singers in jazz today, New Yorker Charenee Wade powerfully reinterprets the music of Gil Scott-Heron. The revolution will be vocalised in this powerful reinterpretation of the soul and jazz poet's body of work.
BUY TICKETS HERE
Description
Charenee Wade (USA/Australia)
The award-winning and critically acclaimed New Yorker Charenee Wade is one of the most distinctive and bold musical voices in jazz today. She has excited audiences all over the world with the ingenuity of her phrasing and vibrancy of her stage presence.
A rising star in Downbeat magazine's 2017-18 critics polls, Charenee is poised, majestic with a razor-sharp agility reminiscent of the jazz greats. Bassist Christian McBride says she is the second coming of Betty Carter.
Charenee has worked with some of the leading artists in the music, including Wynton Marsalis, Terri Lyne Carrington and Robert Glasper, and, in 2017, received the Jazz at Lincoln Center Millennial Swing Award.
"Ms Wade is a jazz singer of commanding skill, an heir to the legacies of Betty Carter and Carmen McRae." – New York Times  
She will perform material from her latest project, Offering: The Music of Gil Scott-Heron and Brian Jackson, a powerful reinterpretation of the soul and jazz poet's body of work. Charenee said the songs relate to what she says are "issues that unfortunately still need to be addressed today … There are still so many struggles revealing that our work is not yet done"
Jazzwise magazine described the album as "an emotional engagement with the material that renders every word believable,"
For her Sydney concerts, Charenee will be performing with;
OSCAR PEREZ – Piano
BRETT HIRST – Double Bass
PAUL DERRICOTT – Drums
Event Details
Date: 17 November 2018
Start time: 20:30
End time: 11:30
Venue: Foundry616