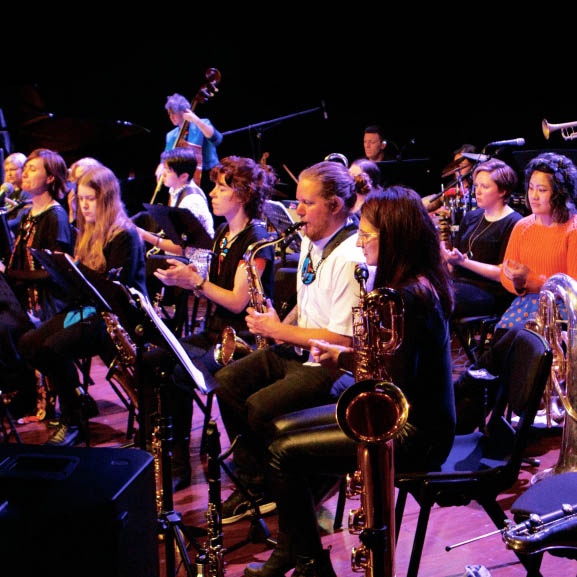 13 Nov Tuesday – SIWJF – Sirens Big Band presents [A]part
$20.00
Tuesday 13th November, 7.30pm
Dynamic super-collective, Sirens Big Band performs an epic 1 hour suite by Ellen Kirkwood, featuring Andrea Keller (piano), Sandy Evans (saxophones) and Gian Slater (voice). Bringing new sounds to the traditional big band setting, Sirens Big Band are passionate about increasing gender diversity in jazz through their predominantly female and trans line-up. Support artist: The Young Women's Jazz Orchestra
GENERAL ADMISSION TICKETS VIA THE BUTTON BELOW
Secure your seat by Pre-Purchasing Drinks below
BUY TICKETS HERE
Description
Sirens Big Band presents [A]part
This performance will launch the album recording of [A]part; Kirkwood's ground breaking and captivating response to world issues including climate change, the refugee crisis and the omnipresence of the internet. [A]part was a finalist for Jazz Work of the Year in the APRA Art Music Awards.
"This jazz ensemble… can roar as one like an Ethiopian lion or fly like a bullet train, and yet also bristles with world-class soloists who are given free rein to blow and blow and blow." OrangePress.net
A dynamic super-collective bringing new sounds to the traditional big band setting, Sirens Big Band are passionate about increasing gender diversity in jazz through their predominantly female and trans line-up. Trumpeter and composer Ellen Kirkwood is rapidly gaining recognition for her daring and imaginative works. She was a 2017 finalist in the Freedman Jazz Fellowships, and won the Jann Rutherford Memorial Award in 2012.
Sirens Big Band presents [A]part: an epic 1 hour suite by Ellen Kirkwood, featuring:
ANDREA KELLER – Piano
SANDY EVANS – Saxophones
GIAN SLATER – Voice
The Young Women's Jazz Orchestra
This 17 piece Orchestra of talented young women aged 16-23 are a vibrant and fun collective who play mostly Australian contemporary jazz. This group is an initiative of Sirens Big Band, and is directed by Ellen Kirkwood.
This performance has support from the Australia Council for the Arts.
Additional information
| | |
| --- | --- |
| Ticket Type | Pre-Purchase Drinks |
Event Details
Date: 13 November 2018
Start time: 19:30
End time: 11:30
Venue: Foundry616