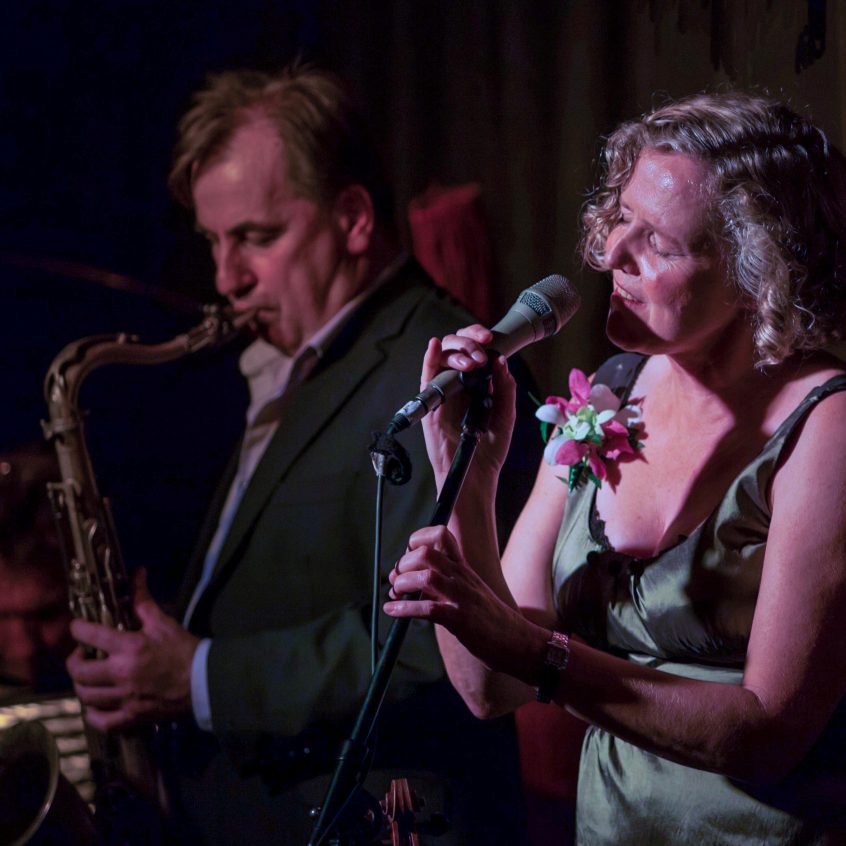 09 March Saturday – Chasing the Moon
$22.00 – $74.00
Saturday 9th March, 2019, 8.30pm
Doors open from 6:30pm
Online bookings are now closed. Please purchase tickets at the door.
Description
Chasing the Moon are a Sydney-based 6-piece jazz band. Inspired by the romantic and swinging sounds of Hot Club Jazz, they create a delicious feast of swing, chanson, Latin, blues and modern sounds. They have just released their second CD, 'Ooh La La' which features a mix of original songs and instrumentals coupled with arrangements that tease new threads out of classic tunes. With its balance of soulful ballads, exquisite melodies, Latin flavours and up-tempo tunes, this music is engaging and accessible.
The group is led by vocalist and violinist Kathy Bluff along with saxophonist and flute player Paul Burjan. The two musicians have a rapport informed by many years of playing music together. Kathy Bluff delivers her distinctive style of soulful vocals and swinging jazz violin with warmth and charm that meldswith the elegance, fluidity and strength of Burjan's saxophone and flute.
Well known Sydney jazz guitarist, John Blenkhorn provides the rhythmic pulse as well as Djangoesque solos played with flair and attention to detail. That essential Parisian ambience comes with the piano accordion of the dynamic Emily Rose Sarkova an engaging performer and gifted musician. On double bass Merv Sequiera along with drummer Mike Quigley lay down the best of grooves, playing sweet and in the pocket.
Chasing the Moon's music is complex and interesting and yet still accessible with catchy melodies and lively rhythms. There is a range and quality to the ensemble sound of strings and wind as solos pass from one player to another allowing each member a chance to shine. This is a band of high calibre musicians playing with musicality and flare.
---
Tickets:
General – $27.00 incl booking fee
Concession – $22.00 incl booking fee
Dinner & Show – $59.00 incl booking fee
Premium Dinner & Show – $74.00 incl booking fee
Drinks & Show – $45.00 incl booking fee
Additional information
| | |
| --- | --- |
| Ticket Type | General Admission, Concession, Dinner & Show – 6.30pm, Dinner & Show – 7pm, Dinner & Show – 8pm, Premium Dinner & Show, Drinks & Show |
Event Details
Date: 9 March 2019
Start time: 20:30
End time: 23:00
Venue: Foundry 616
Phone: 02 9211 9442
Email: info@foundry616.com.au