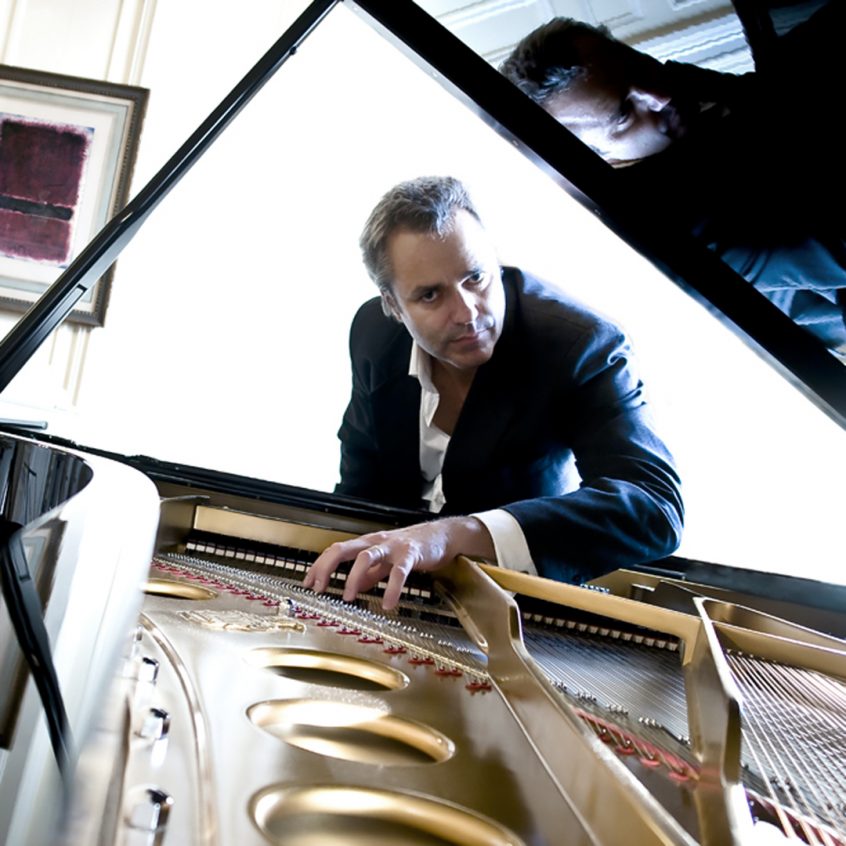 03 May Friday – Chris Cody Quintet: Astrolab – Suite for La Perouse
$22.00 – $72.00
Friday 3rd May, 2019, 8.30pm. Doors open 6:30 PM
Online booking is now closed. Please purchase tickets at the door.
Description
Chris Cody Quintet, with Paul Cutlan, clarinet, sax, flute, James Greening, trombone, Fabian Hevia, percussion, Lloyd Swanton, bass, Chris Cody piano and direction.
"Beautifully meditative…sublime… wonderful… an enthralling musical voyage" Steve Townshend, Loudmouth magazine
International pianist and composer Chris Cody returns with his all-star group featuring some of Australia's finest jazz musicians to perform this major work. Astrolab, Suite for La Perouse is inspired by the extraordinary three year voyage of French navigator La Pérouse who arrived here just six days after the First Fleet in 1788. After La Pérouse left these shores a few weeks later he was never seen again, his two ships being shipwrecked near the Solomon Islands.
The incredible voyage and disappearance at sea of this French navigator has been a big inspiration for Cody to write this work with differently imagined times, cultures and places.
The powerful and moving music draws upon jazz, classical and diverse world music influences inspired by the round-the-world voyage. There is plenty of space for the musicians to open up and improvise over the different moods, textures and styles, ranging from calm meditation to exuberant joy.
"La Perouse was an incredible explorer, perhaps sometimes overlooked," Cody says. "I like this idea of the old world and the new world meeting. He went on this incredible journey through different cultures from South America to Asia, Japan, the Pacific Islands and then Australia. I think it's a fantastic story. It wasn't about conquest. He went out with botanists, astrologers and cartographers. It was all about learning and expanding human knowledge." Source: Daily Telegraph, Ben James, 2018
"Exhilarating … a feast of melody… an inspiration never at fault." JazzHot, France
"World class, swinging, passionate, alert and intuitive." Cadence, USA
"These musicians guarantee a performance full of colour, humour and rhythmic movement."  Sydney Morning Herald
"Polished composition and pianism doesn't get much better or more enjoyable than this and Cody proves he is the master of form." Fine Music Magazine
---
Tickets:
General – $27.00 incl booking fee
Concession – $22.00 incl booking fee
Dinner & Show – $59.00 incl booking fee
Premium Dinner & Show – $74.00 incl booking fee
Drinks & Show – $45.00 incl booking fee
Additional information
| | |
| --- | --- |
| Ticket Type | General Admission, Concession, Dinner & Show – 6.30pm, Dinner & Show – 7.30pm, Dinner & Show – 8pm, Premium Dinner & Show, Drinks & Show |
Event Details
Date: 3 May 2019
Start time: 20:30
End time: 23:00
Venue: Foundry 616
Phone: 02 9211 9442
Email: info@foundry616.com.au