01 March Thursday – Nancy Ruth 'Sangria Jam' (Spain)
$22.00 – $79.00
Thursday 1 March, 2018, 8.30pm


Description
Direct from Spain:
Vocalist/ Composer Nancy Ruth -Sangria Jam Australia 2018 Tour
Thursday 1 March, 2018
Doors 6.30pm Show 8.30pm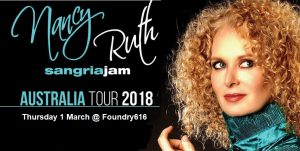 Nancy Ruth's latest release Sangria Jam is a musical journey recounting her travels and life in Spain. Combining her influences of jazz, Latin and flamenco, she says: "I write what flows freely… I'm not trying to create a fusion, I just play what I feel. I'm a product of my experience and surroundings."
Having toured Spain and Latin America in 2017, Nancy is looking forward to returning to Australia with shows in Adelaide, Drysdale, Ballarat, Melbourne, Brisbane and Sydney. 

"Nancy Ruth, a powerful and talented singer, combines together jazz, flamenco and Latin rhythms in a natural way, creating a fresh genre that fits into all three idioms." – Scott Yanow, Los Angeles Jazz Scene 

Nancy Ruth has an incredible story about how she moved to Spain from Canada, on her own with hardly any resources – not even a mobile phone and limited Spanish.  Despite starting with nothing and knowing no one, she persisted and fully integrated into living as a Spaniard, learning the culture, and becoming completely fluent in Spanish. She wrote an album all about that experience called Sangria Jam.
As Nancy puts it, "Sangria Jam refers to the way my loves of jazz, flamenco, and latin rhythms come together, as well as my mixed European bloodline, which in part traces back here to Spain. I'm not trying to create a fusion, but rather freely reflect my experience and surroundings. Sin prisas, pero sin pausas…this recording has taken its own time and course, just like a typical day here in Spain, where for all the plans you may make, life leads you around unexpected corners. The idea is to ride the wave… enjoy the phrase, devour the moments, and notice the magic that catches you off guard".

Nancy Ruth: voice, piano, guitar, compositions
Alain Valodze: guitar
Enrico Mick Morena: drums/ percussion
Herbert Jiménez: electric bass
About the musicians:
Alain Valodze (guitar) spans several decades of expressive guitar playing, combining elements of Flamenco, Brazilian and Moorish music with a Jazz sensibility.
Enrico 'Mick' Morena (drums, percussion) has recorded and toured extensively with artists such as Kate Ceberano, Maroon Town, Joe Louis Walker, and Israel's Aviv Geffen.  
Tony Hicks (saxophones, flutes) melds influences from collaborations with Indigenous Australian, Klezmer, Indian, jazz, ska, funk, electronic, minimalist and avant-garde musicians into an evocative contemporary voice that transcends cultural and stylistic boundaries  
Herbert Jimenez (electric bass) has played will numerous Latin bands such as Carlitos Way, as well as having performed with music legends Omara Portuondo and Angélique Kidjo.
---
Tickets:
General – $32.00 incl booking fee
Dinner & Show $64.00 incl booking fee
Premium Dinner & Show $79.00 incl booking fee
Drinks & Show $50.00 incl booking fee
Concession – $22.00 incl booking fee
Additional information
| | |
| --- | --- |
| Ticket Type | General Admission, Concession, Dinner & Show – 7pm, Dinner & Show – 8pm, Premium Dinner & Show, Drinks & Show |
Event Details
Date: 1 March 2018
Start time: 20:00
End time: 23:00
Venue: Foundry 616
Phone: 02 9211 9442
Email: info@foundry616.com.au