19 April Wednesday -The Rheingans Sisters (UK) + The Field
Wednesday 19 April, 8.00pm
Product Description
The Rheingans Sisters (UK) 9.00pm
2016 BBC Radio 2 Folk Award winners The Rheingans Sisters are in Australia for the first time, as they tour their critically acclaimed new album Already Home
"Quite simply extraordinary" f.ROOTS

"Superb" THE INDEPENDENT

""a duo of considerable abilities and imaginations to match" and … a magnificent album"* * * * *SONGLINES
The Rheingans Sisters' debut album Glad Gold Hearts was released in 2013 to quiet but widespread critical acclaim in the folk music press.  Nominated for Best Group and Best Newcomer in the Songlines Music Awards.
fRoots called Glad Gold Hearts 'a subtle gem'. It was clear there was more to come from this duo.
In an in-depth interview with Anna and Rowan in the latest edition of fRoots Magazine, the story of how and why their second album has had such a huge and profound impact on the folk music world, is explored Music journalist Tim Chipping believes part of the reason for the success of Already Home is that "it isn't merely a collection of fiddle tunes by gifted and experienced players. It is, for those of us who still believe in these things, a proper album. It has a certain sound and identity, quite enchantingly so."
Already Home is a record in the original sense of the word: this is a record of musicians playing together and responding to each other in a particular place and at a particular time. Recorded live over just five days in a remote forest studio in Wales, this is an album of connection: exploring the links between music rooted in different places, between old songs and new and between two players of distinct style and reference.
And as Anna and Rowan spend most of their time living far apart, immersed in separate musical worlds, it is also about the particular connection and re-connection of two sisters, their shared early lives immersed in folk music and their separate musical journeys since. Their duo is a bold, original, bright and playful partnership that has resulted in truly innovative music, drawing on their rich knowledge of traditions but refusing to be bound by them.
In addition to their duelling fiddles and voices, Already Home (produced by the sisters themselves) features a rich tapestry of banjo, bansitar, viola, kantele, feet, percussion as well as atmospheric found-sounds including bird song, rain, wind and ocean.
Rowan says of Already Home, "I feel like Already Home is the most honest, intimate album we've made and it's a nuanced, thoughtful record which I think reflects the last few years of our musical lives. We've both dug deeper into our musical landscapes and made composition a more central part of what we do. I think we are clearer about the kind of atmosphere we want our music to create and we've taken more risks to try and get there".
On stage, the pair connect with each other, play freely and have lots of space for improvisation, which is where the magic happens.
More information, tour dates and live videos:
www.rheinganssisters.co.uk
https://www.facebook.com/TheRheingansSisters/
'Already Home' promotional video:
https://www.youtube.com/watch?v=6YOUdIrulOs
+ The Field 8.00pm
The Field's music is a meeting place of styles. You can hear jazz, blues, country and Celtic influences throughout. There are hints of Ry Cooder and Bill Frisell as well as Little Feat and the more obscure Celtic leanings of Pentangle and Richard Thompson.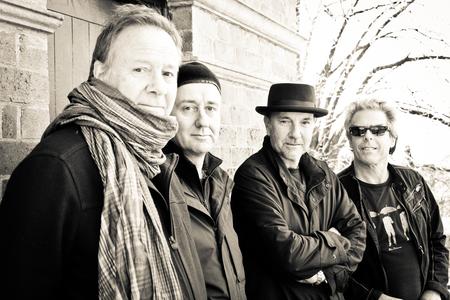 Here's how Sydney music critic John Shand described their sound after hearing them play at the venerable Side On Café a few years ago:
"The Field's music is immediately friendly, drawing the listener in with its obvious warmth and drawling geniality. With greater familiarity we find that, while it is by no means urban music, nor is it quite country. Perhaps it may best be described as Arcadian, given its pervasive stillness and radiant sense of contentment."
The Field's leader and principal composer Bruce Reid, is one of the country's foremost slide guitarists and has been a member of some its finest groups including The catholics, Wendy Matthews and Dragon.
On bass, Lloyd Swanton – one of Australia's foremost jazz musicians. Swanton founded and still leads The Catholics and is a founding member of The Necks, perhaps Australia's most successful jazz export.
John Stuart is an accomplished jazz guitarist, a respected composer and arranger and also a fine steel guitarist (See the Snaketown Rattlers). John is also a fine percussionist and was a member of the great Jackie Orszaczky Band.
Drummer Hamish Stuart is a legend in this country. He was a mainstay with the late Jackie Orszaczky for several decades. He maintains an incredibly busy and diverse schedule these days, playing with The Catholics, Ian Moss, Lucie Thorne, Tina Harrod and many others. His discography is a veritable whose who of Australian Jazz, Rock and R&B.

Additional Information
| | |
| --- | --- |
| Ticket Type | General Admission, Concession, Drinks & Show |
| Date | 22 June 2016 |
Event Details
Date: 19 April 2017
Start time: 20:30
End time: 23:00
Venue: Foundry 616
Phone: 02 9211 9442
Email: info@foundry616.com.au